Administrator
Staff member
This is the
ninth
installment of the On Professionalism thread series.
The previous installment thread can be found here:
Losers Average Losers, Averaging Down, and Grinding it Out
The index and first installment can be found here:
On Professionalism
Managing your trade.
When following a trade plan (and avoiding 'hope' mode,) having an exact plan of action in place for every possible outcome in price movement is a great way to help manage your trade (and make sure you're sticking to your initial trade idea.)
It could be as simple as a stop loss and take profit order, or as complex as monitoring an indicator or volatility to give you a reason to execute on your trade, but it's essential to have a plan for each trade you take and be able to follow through on it.
One method that works well is creating a decision tree for all possible outcomes.
A decision tree is just structure of choices pre-made for each possible result of the previous choice. For example:
This is a very basic example to better illustrate the point. If your trade style or plan is sensitive to factors like volatility, news, indicators, etc... then incorporate these as 'branches' to your decision making and expand on your tree.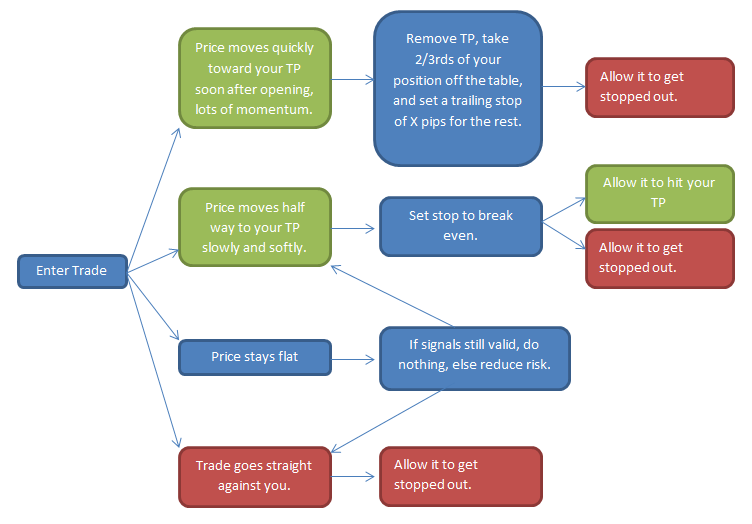 Here we see the decision process given possible outcomes of a trade. You don't have to do this on paper for every trade, and often the same decision process will apply to each trade taken in your trade plan, but simply having the guide already set can help remove any discretionary interference from mucking up your trade plan's performance. (How many times have you missed out on profits thanks to messing with your trade plan once the trade is put on?)
Remember, we are following a plan for a reason: To exploit an edge we've discovered in the market! That edge quickly goes away once we stop following the plan. A decision tree is just way to help keep your execution choices within you trade plan and -- more importantly -- prevent you from freezing up should the market change drastically.
As the cliche goes: Plan your trade; trade your plan.
The next installment in the On Professionalism thread series can be found here:
Points not Dollars, and Non-Monetary Trading Goals