Bitcoin can be explained imho with the weekly chart as the optimal timeframe.
I also buy each time it breaks into or below a weekly point of interest. My trades are held there. Then I will eventually sell as price starts to breaks highs.
At the end, all the chart is basically fully covered with you
long and only buy long positions
. Shorting BTC is unnecessary and adds unlimited risk while taking only long positions keeps your potential RRR close to zero, which is the best possible scenario.
For me the most optimistic scenario for BTC is this one in terms of repricing higher.
Of course, everything can be different, this is just a theoretical scenario. That trendline is saying: take me out and kick off all the trendline buyers right now!!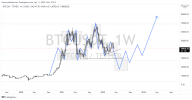 So the things goes like this:
BTC is now being controled by buyers that are lowering prices to get bitcoins at the most lowest possible prices.
The two closer obvious levels to execute buys are the level below the trendlin above 30K and the area below the last double bottom by 25K and hopefuly near 20K.
These two aeas are completely full of sellside liquidity in the form of sellers exiting their longs, agents riding the descending structure etc...
So I think that the most obvious level where prices will structuraly be strong in order to change from long to short hands will be these areas by and below 30K.
Once the pockets of the dealers are full of bitcoins, they will start to offer higher prices to induce people to buy as they sell taking control of price as it starts to move up again in a heavy selloff program to the tops.
Last edited: